The security community often limits governance to the concept of governance, risk management, and compliance (GRC). Security leaders are accustomed to directing security-centric efforts like risk assessment, implementing security controls, and maintaining compliance programs. However, information security is one of many governance structures that influence how an organization must operate to achieve success.
This BrightTALK series was inspired by some of the most compelling content discussed in EC-Council's Certified CISO (CCISO) program, which focuses on contributions the CISO makes to governance at the corporate level where an organization defines the enterprise processes, structures, and tools used to direct and manage its operations.
Featuring Keyaan Williams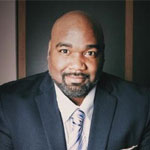 Keyaan Williams, Senior Executive Instructor, CCISO, is both a seasoned information security executive as well as an experienced educator. He is currently serving as Director of the International Board of Directors of ISSA. His previous positions include serving as a Faculty Member at the University of Business and Management for the University of Phoenix and the Global Director of Information Security for the CDC in Atlanta. Keyaan brings a passion for information security as well as education to his role as Senior Executive Instructor for the CCISO Program. His areas of speciality include vendor and third party risk management, organizational culture and its influence on the perceived value of security, information security policy and strategy, risk management, regulatory compliance, project management, disaster recovery and business continuity planning, cloud security, security awareness, and especially, mentoring and developing security professionals.
Corporate Governance for CISOs: Business Continuity Management

Date: May 17th, 2016

This session focuses on the most important concerns related to business continuity management. CISO isn't always the leader of an organization's business resilience efforts, but the CISO offers significant influence to ensure an effective program that support business impact analysis, business continuity planning, and disaster recovery for an organization's critical information assets.
Corporate Governance for CISOs: Leadership: Beyond Security Technology

Date: June 1st, 2016

Technical expertise is a critical component of security leadership; however, the modern CISO must possess a myriad of fundamental business to run a successful program. This session will focus on non-technical areas in which the CISCO should be competent and communicate effectively: strategic planning, financial management, contracting, and vendor management.