[highlight color="" border_color="" background_image="https://ciso.eccouncil.orgwp-content/uploads/2013/09/about_us_1.jpg" background_attachment="fixed" background_position="center center" background_stretch="no" min_height="300″ first_page="yes" last_page="no" padding_top="10″ padding_bottom="0″ margin_bottom="" fullwidth="yes"]
[divider style="1″ align="center" size="normal" variant="normal" dimension="3px" color="" scrolltext=""][/divider]
CCISO Training: Santo Domingo, Dominican Republic
[divider style="1″ align="center" size="normal" variant="normal" dimension="3px" color="" scrolltext=""][/divider]
Training:
[list type="icon-check"]
November 14 – 18, 2016
Address:Cyborg Consultores de IT
Paseo de Barcelona 33 Santo Domingo, Distrito Nacional Dominican Republic – 15015
[/list]
The CCISO program trains individuals who are looking to make the jump from middle management to the executive ranks by focusing on high-level management skills specifically needed for IS executives. From project to audit management, procurement and finance, to strategy and policy, students will be taught to steer complex security programs strategically and successfully. The CCISO program was created and is taught by sitting high-level information security executives from across industries, resulting in the most relevant, challenging, and applicable content on the market.
Participants will learn from top CISO who instructs the C|CISO class
[divider style="1″ align="center" size="normal" variant="normal" dimension="3px" color="" scrolltext=""][/divider]
Course Outline
About the Instructor
5 Domains
The Exam
Course Outline
Duration: 5 DAYS
Trainer: Daniel Elías Robles
Certification: C|CISO Certified Chief Information Security Officer
The Certified CISO (C|CISO) course has certified leading information security professionals around the world and is the first of its kind training and certification program aimed at producing top-level Information Security Leaders. The CCISO does not focus solely on technical knowledge but on the application of information security management principles from an executive management point of view. The program was developed by seasoned CISOs for current and aspiring CISOs.
C|CISO Material assumes a high-level understanding of technical topics and doesn't spend much time on strictly technical information, but rather on the application of technical knowledge to an information security executive's day-to-day work. The C|CISO aims to bridge the gap between the executive management knowledge that CISOs need and the technical knowledge that many aspiring CISOs have. This can be a crucial gap as a practitioner endeavors to move from mid-management to upper, executive management roles. Much of this is traditionally learned as on the job training, but the C|CISO Training Program can be the key to a successful transition to the highest ranks of information security management.
About the Instructor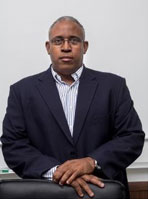 He has specialization in Information Security, Audit and Risk Management training. He has completed CEH, CISSP, CCSP, CISM, CISA, ECIH, EISM certification. He has excellent professional knowledge and he is an expert in security with strong capabilities in management consulting IT risk.
The 5 Domains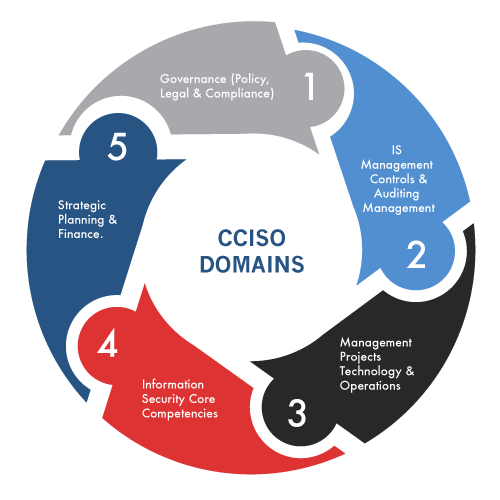 EC-Council's C|CISO Program covers the 5 Domains of executive information security management. The content of each domain was developed by sitting CISOs for current and aspiring CISOs.
Domain 1 covers the importance of Governance, including solid policy writing, aligning the security program to industry-recognized frameworks, and adhering to sometimes contradicting law and regulations.
Domain 2 focuses on Management Controls, Audit Management, and Risk Management, leading students through detailed examples of how to run an audit as well as implement audit findings, choosing the correct management controls for each situation, and the importance of understanding asset value, risk tolerance, and risk treatment plans.
Domain 3 focuses on what makes up the bulk of a CISO's day – Project Management and the importance of ensuring information security is part of projects from their inception.
Domain 4 is the only CCISO Domain that focuses on technical topics as a high level of technical proficiency is assumed of all CCISO students. Domain 4 stresses the importance of understanding technology and information security core concepts in order to lead teams of technicians and analysts and make decisions around technology issues. Technical issues are addressed from an executive point of view.
Domain 5 consists of content regarding leadership, aligning security programs to the overall goals of the business, strategic management, executive buy-in, financial management and much more. Domain 5's content sets the CCISO program apart from all other infosec management certifications on the market by teaching the content that technical CISOs are usually lacking.
The Exam
The C|CISO Exam was developed by practicing CISOs and based on the real-world scenarios professionals from across industries have faced while securing some of the most prestigious organizations in the world. The C|CISO Exam is available at Pearson VUE testing centers around the world. Applicant's knowledge in all five of the C|CISO Domains will be tested on the exam that focuses on scenario-based questions and requires applicants to apply their real-world experience in order to answer successfully. To that end, in order to qualify to sit for the C|CISO Exam after taking the CCISO class, applicants have at least 5 years of information security experience in 3 or more of the CCISO Domains. Any student lacking this experience may take the EC-Council Information Security Management (EISM: https://ciso.eccouncil.orgcciso-certification/eism-program/) exam and earn the EISM certification. In order to sit for the C|CISO exam and earn the certification, candidates must meet the basic C|CISO requirements. Candidates who do not yet meet the C|CISO requirements but are interested in information security management can pursue the EC-Council Information Security Management (EISM) certification.
[/highlight]